Connies Jeep Cherokee Blog
Connie's Jeep Cherokee Blog.
Let's face it!   The
Jeep brand can handle being in any climate its thrown into.   Well known for its award-winning 4x4, and off-road
capability, the Jeep lineup has something for everyone.    My favorite is the Jeep Cherokee. 
For the Calgary winter days when the roads get slick-if you
are winter driving and planning to stay safe on the road, Jeep Cherokee will
get you where you need to go, no doubt about it. Fully capable of handling
rough terrain, it also demonstrates a smooth, relaxed ride.    Whether you choose 2.4 L Tigershark
MultiAir I-4 -4cylinder, or my favorite 3.2L Pentastar V6 with Variable Valve
Timing, you will find both pair perfectly with the 9 speed Automatic Transmission. 
Living in Calgary and driving to work in Strathmore, I
wanted to stay safe especially when driving on the winter roads.    I especially loved the way my Cherokee
handled through the mountains going to visit my family in B.C!  
Looking at several trim levels, starting with SPORT, I went
with the NORTH which was perfect for my style, driving needs and budget.   
While I did get the cloth seats, I was able to benefit from
the Cold Weather group which gave me all season floor mats, heated seats,
heated leather wrapped steering wheel with mounted audio controls (Great for
maximizing playing my favorite tunes while on the road!!) , and remote start
system which is my favorite . 
I also was able to have the full color,  8.4 Uconnect screen and Park Sense Rear back
up camera.    
I especially was impressed with the smooth gear shifting and
cozy cabin interior.
Again, for me it was important to remain safe and
comfortable and the Jeep Cherokee met all my needs!
Want to get to know the Jeep Cherokee personally???    Come see me, Connie Pocasangre at Murray
Chrysler Strathmore!
BLOG-RUBICON
Today I'm going to
showcase our brand new 2018 Jeep Wrangler Rubicon Recon (JL). They have really
stepped up and brought the Wrangler to a whole new level!
From exterior styling to interior
technology, I can tell you that this is certainly not a Jeep Wrangler you're
used to. It's signature 7-Slot Grille is now
slanted at the top, pairing that with the updated rounded LED headlights with a
horizontal projector between the highbeams, it gives the Wrangler a much more
aggressive look. Interior wise it is brand new, with painted bezels and a whole
new dash. You can also expect to see the most advanced display ever seen in a
Wrangler. The 8.4 inch display Uconnect system is heavily updated this year
featuring Apple CarPlay, Android Auto, as well as our brand new Sirius Guardian
which has features such as SOS and Assist to get help when you need it. The new
Sirius Guradian will also allow you to do things like remote start your vehicle,
and unlock/lock your doors right from an App on your cellular device, it has
never been more convenient.  The Wrangler
will also feature an all-new 7 inch in-cluster dash display, and 4 USB ports on
the inside.  
With available
33-inch All-Terrain tires on the Rubicon, the Rock-Trac 4x4 system, and Dana 44
Front and Rear axles, there is absolutely nothing that is going to be able to
stand in the way of you and your All-new 2018 Wrangler. Also, available to this
year is a 2.0L Turbo Charged 4-cylinder engine, as well as the classic
Pentastar V6. This all-new engine outputs 270 horsepower and 295 lb-ft of
torque at lower RPM (5,250/3,000) than the V6. So, the 4-cylinder Turbo will
have very similar output as the V6 but it will be able to deliver it quicker.
This new engine also boasts an
all new eTorque system. This
includes electric power assist, stop/start functionality and regenerative
braking and can totally turn off the engine and fuel flow during stops or when
coasting. FCA says eTorque helps with launches and fuel economy. It teams with
an eight-speed automatic transmission, which will be a first in our Wrangler
line-up.
There is
also one more feature that Jeep enthusiasts will absolutely love. My Mother
actually purchased a 2016 Jeep Wrangler in Hydro Blue, and this would make her
life in the summer much more convenient. There is an available Sky One-Touch
power top that retracts the canvas roof. Making taking it off and putting it up
so much easier than previous Wranglers where you needed 2 people and some elbow
grease to get it done right!
Auto Blog
did a quick first look at the all new Rubicon, and I'd invite you to watch
their short feature video to give you a better idea of what the All-New 2018
Jeep Wrangler Rubicon Recon JL will look like.
https://www.autoblog.com/2017/11/29/2018-jeep-wrangler-rubicon-revealed-video/
Thanks for
reading, watch for my walk-around of the Rubicon we have in stock and I hope you
come into Murray Strathmore and check out on of these beautiful units sooner
than later!
Cody
Betterton
Selby's Vehicle
Blog:
Hi everyone! My name is Selby and I am the new Sales
Assistant here at Murray Chrysler Strathmore.
Welcome to my Vlog (vehicle blog), where I will review fun
features and facts about our vehicles and what makes them special. Count on me
to help you out with tips to get familiar with vehicle technology.
Jeep Compass:
The first thing you will notice about the jeep compass is its
sleek and sporty design. You might even mistake the Jeep Compass for a Range
Rover because of its sleek luxurious style, thankfully it's a quarter of the
price! The Compass offers all the qualities of an SUV but is more compact and
fun to drive.
Did I mention I am from Cochrane? It only makes sense that
my next vehicle is extremely fuel efficient. That's where the Compass' fuel
efficiency comes in handy. It is as efficient as 10.4L/100km for city driving
and 7.3L/100km on the highway. Needless to say, it's the perfect fit.  
The best part about the Compass is that it has something for
everyone! Do you like to go off-roading? The Compass Trailhawk has unreal
off-road capability, there's no wonder it's Trail Rated. Maybe you're looking for
something a little more outside the box? Perfect! The Compass comes in unique
colors such as Spitfire Orange, Laser Blue Pearl, and Olive Green Pearl. Do you
like to geek out on your car data? Unleash your inner nerd while scrolling
through the driver information display. Do you have kids? Have a scavenger hunt
to find the Jeep 'Easter eggs' embroidered in different parts of the Compass.
Can they spot the lizard, LochNess Monster, Jeep grille & headlights, and
the Willies Wheeler?
"How's the drive from Cochrane everyday?" - the
common question I receive from people when they ask about my commute. Ask me in
a month and my response will be: "I love it!". Why you might ask? Because I'll
be driving a Compass!!

~~~

WHY DID MY ENGINE LIGHT
COME ON?
By Darin Collins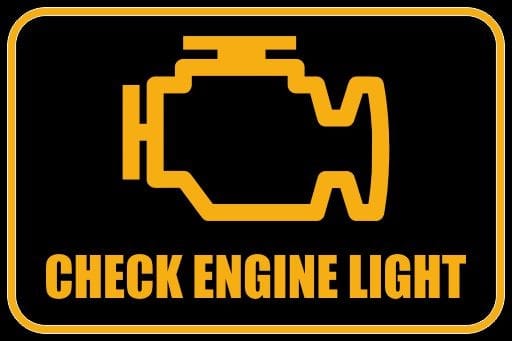 When you're
driving down the road and your check engine light comes on it's easy to
immediately think the worst.  Typically,
this little light is not an emergency but one that should be checked out by a
certified mechanic at your nearest convenience.
These are
some of the most common reasons this will occur.
Loose Gas Cap
This is an
easy one to check, and fix.  If the cap
was the culprit, the light should disappear within the next 10-20kms of
driving. 
Oxygen Sensor
The oxygen
sensor measures the amount of unburned oxygen in your vehicles exhaust
system.  If left unchecked, your vehicle
will burn fuel at a much higher rate and possibly lead to much more expensive
problems in the future.
Spark Plugs or Plug Wires
Engine light
can be a sign that your spark plugs or wires need replacing.  If this is the case, you will likely notice a
reduction in performance and fuel mileage.
As with the oxygen sensor, ignoring to replace these parts can lead to
permanent further vehicle damage.
Catalytic Convertor
This is
responsible for converting carbon monoxide into carbon dioxide.  Your vehicle won't pass the emissions test if
your catalytic convertor is causing the problem.  Your car may also run at a higher
temperature.
Mass Airflow Sensor
This sensor
measures how much air is coming into the engine to determine how much fuel is
needed to efficiently run your engine.
Like other potential problems, it is important to fix this sensor in
order to avoid even more potential costs.
There are
multiple other reasons that this light may come on, and although there is
usually no need to panic it is always best to bring in your vehicle to a
certified service department.    
RAMBOX - THE RAM EXCLUSIVE
By Jeffre MacDonald

The Rambox Cargo Management System is a Ram exclusive to our
truck lineup. The Rambox is a unique feature that utilizes the awkward shape
the of the pickup box above the wheel wells. By utilizing the space occupied in
the box above the wheel wells, the box of the Ram truck can still accommodate
sheets of plywood while safely storing tools and goods separately in the side
of the box.
It's no secret that the Ram truck is a popular choice for
tradespeople, contractors and professionals of all sorts. The Rambox makes it
easy for anyone to organize the contents of their box - from construction goods
to groceries!
With the consistent infrastructure upgrades in Calgary and
surrounding communities like Okotoks, Airdrie and Cochrane, Alberta has a lot
of men and women, in trucks, getting to and from the job site daily. With the
Rambox Cargo Management System being available on Ram 1500, 2500 and 3500
models, there is an application for everyone! As an added bonus, there is even
a cargo divider that can be placed at any position inside the truck box to
separate and secure goods even further, PLUS the divider can also be used as a
box extender!
2018 RAM 1500 Blog
 With 11 available models, there is a Ram for everyone. With
undeniable power, efficiency, and the will to get any and every job done.
There's no wondering why our 2018 RAM 1500 is the most capable RAM ever.
 Powertrain:
Our 3 available engine options including our V6, 3.0L
Eco-Diesel, and our poster-child - the 5.7L Hemi V8. Your truck will be
fantastic for anything you throw at it, whether it be the fuel efficiency of
our 3.6L V6 which is able to achieve a combined 23.5 MPG whether it be in the Town
of Strathmore, the wide open Trans-Canada Highway on your commute to and from
Calgary, or heading east to our Saskatchewan neighbor the V6 will get you
there, all the while helping your wallet out. If you think that's impressive,
wait until you see this. While producing more torque than our Hemi, and also
achieving and even better fuel mileage than our V6. Our Eco-diesel clocks in at
an absolutely amazing combined 27 MPG. Our 3.0L V6 Eco-Diesel is the toast of
the town. But nothing, and I mean nothing, compares to our outstanding 5.7L V8
Hemi, with 395 Horsepower, and 410 Ft-lb of torque there is no wonder to why
this is our breadwinner. Pairing the long-lasting V8 engine, with an
eight-speed TorqueFlite transmission - our V8 achieves just over 20.5 MPG
combined.
 Interior:
 In my honest opinion, the
2018 Ram 1500 has one of the nicest interiors in the class. The cabin remains
quiet at speed, and even the lower trims feature plenty of premium materials,
which is uncommon for a truck. Both rows of seats are spacious and comfortable.
Our lower trim level trucks feel well built, with quality
materials, and upper trim levels are very well executed, with available wood
trim and premium leather upholstery which start to appear in
our Laramie trim levels. The Ram 1500 seats up to three in our Regular Cab models
and up to six in our Quad Cab and Crew Cab models. All cab configurations are
available with front bucket seats, which reduce total seating capacity by one
(5), versus the bench seat (6). Standard features in the Ram 1500 include a USB port, and a
six-speaker audio system. Available features include power locks, power
windows, dual-zone automatic climate control, a sunroof, Bluetooth, back-up
camera, heated & cooled front seats (available heated rear sets), a
10-speaker Alpine audio system, satellite radio, navigation, front and rear
parking sensors, and the voice-activated Uconnect infotainment system with a 5-
or 8.4-inch touch screen, Apple CarPlay, and Android Auto.
The Ram 1500's standard features list (even power windows
and door locks are optional) is common for a truck. Of the available features,
our Uconnect infotainment system stands out. It's highly responsive, and the
voice-recognition software responds well to verbal commands, surprisingly as
some of the voice command systems can be a little irritating to operate.
Uconnect is offered with two screen choices. The
higher-end version features an 8.4-inch screen, which is very in-depth and
customizable and it's a better choice because the larger screen makes it easy
to see the buttons.
Exterior:
The Ram 1500 offers three bed lengths: 5 feet 7 inches, 6
feet 4 inches, and 8 feet. Not all bed lengths are available with every cab.
Regular Cab models are available with either a 6-foot-4-inch bed or an 8-foot
bed. Quad Cab models feature a 6-foot-4-inch bed. Crew Cab models feature
either a 5-foot-7-inch bed or a 6-foot-4-inch bed.
All beds except for the 8-foot bed are available with the
RamBox storage system that is built into the bed rails. These handy storage
bins are useful for just about anything, from storing tools to grocery bags,
and they're water tight as well. The cabin has plenty of small-item storage
space as well, from under the back-seat cubbies, to in-floor bins, or even the
dual glove box - featuring an in-dash compartment, there really is a spot for
everything you have with you. Also available under the back seat is a fold-out
flat surface with legs, which make it easier transporting your dogs, or even
piling your groceries inside.
 Towing Specs:
This is a big one, as we do live in Alberta, and with the
Calgary-area citizens being so close to the mountains, among other recreational
places to visit. The RAM 1500 boasts an impressive towing capacity, with up to
10,620 pounds in our regular cab models, 10,340 pounds in our Quad Cab models,
and 10,240 in our Crew Cab. Our truck can pull your trailer, or your boat with
ease! Whether it's getting out of the City of Calgary for the weekend with your
holiday trailer and taking the family to Canmore or Banff for the weekend, or
heading out with the boat to any of the many lakes located in Alberta, our
truck will get your family and your toys there and back in one-piece!
Hemi history
By Alex McKenzie - March 1 2018
Unless you have been living under a rock for the past 60+
years you have probably heard about the Chrysler Hemi engines. But have you
ever wondered what "Hemi" actually means? Chrysler named their engines after the
hemispherical shape inside the combustion chamber. In case you are wondering
what that even means just imagine half a base ball that has been carved out so
it is completely hallow. With this dome shape design some of the many
advantages are that the engine does a better job at completely burning all the
fuel in each cylinder, it is able to do this because the surface area is
smaller allowing less heat to escape. Another key advantage is Hemi positioning
the valves on opposite sides of the cylinder head, this is a better design than
the competition's design being that with the valves placed on each side
increases better air flow for the engine.
With that quick brief on the Hemi design I want to now start
telling you how the Chrysler Hemi came to be. The first Chrysler Hemi engine
was a 36 litre XIV-2220 inverted V16 in 1940. The engine was making 2,500
horsepower and was fitted into the P-47 Republic Thunderbolt. Although the
engine was perfect for what it was built for it never made it into production with
WWII coming to an end the program was later closed down. As Chrysler Hemi
knowledge grew after the war it didn't take Chrysler long to figure out another
way to continue creating powerful engines. In 1951 Chrysler's first production
engine hit the roads, the engine was Chrysler's first overhead-valve V-8 it was
a 331ci "FirePower". It was a huge improvement over the older flathead engine
design.
Next up is the the 426 Hemi. Also known as the "the
elephant" engine. This was the first engine to wear the "Hemi" name and for
good reason to. The 426 Being completely refreshed had a high cost to produce
and only 11,000 were made for customers. The engine was initially designed for
NASCAR and completely controlled the racing circuit winning 26 out of the 62 races
in 1964. With the engine being so dominant 1965 was a different story for the
426 Hemi having to face a ban from NASCAR for the engine not being easily
available for public customers. Chrysler's solution to rebound from the ban was
to simply knock down some tuning of the original design and sell the needed
amount of engines so they could return to NASCAR in 1966.
Skip ahead a few years to 2003 when Chrysler introduced the
5.7 litre Hemi. This engine was built with an almost exact hemisphere
combustion chamber making 345 horsepower and 375 torque making it a easy
decision for Dodge to plant this engine in the Ram 1500, 2500 and 3500.
A couple years later in 2009 Chrysler-Fiat decided to
separate Dodge from Ram. This big decision lead Chrysler to give the 5.7 litre
Hemi a bit of an update. This update equipped the engine with refitted cylinder
heads, intake manifolds and variable valve timing for better airflow. Another
major component that was added would be variable-displacement system, what this
system allows the engine to do is deactivate cylinders improving fuel economy.
What might surprise you is that Chrysler did not sacrifice power for fuel
economy, the 5.7 litre Hemi makes 410 torque and a shocking 395 horsepower.
It's no wonder with numbers and a strong background like that Hemi is the best
selling V8 in Canada.
JEEP CAMPING
March 1, 2018 - By Selby Jessiamn

Its March, that means summer is just around the corner. The
snow is melting, the days are getting longer and spirits are high especially
around the dealership! My favorite part about summer is going camping in my
Jeep Wrangler. Not only is it perfect for the off-road portion off camping, you
know navigating the camp ground that might be located at the top of a hill or
even a mountain. Put the wrangler in 4WD high and away you go! What makes a
Wrangler perfect for camping is that its built for multipurpose use for
instance off-roading, sleeping and stargazing! Once you find the perfect spot,
put your rear seats down, throw in some blankets and pillows or even a
mattress, blast your favourite radio station, and lastly remove your roof! If
you're looking trying to get a date, a Wrangler is the perfect wingman. If
you're looking for a way to impress your friends, a Wrangler is the perfect
tool. Maybe you're just looking for a versatile vehicle for some summer fun,
choose a Wrangler. Don't waste your money on an expensive tent… just use your
Wrangler.
-If you are like me and looking for some great camping spots
in the area check out these places:  
·
-Mountain View Farm Camping - East
Calgary/Chestermere area
·
-Riverbend Campground - Okotoks
·         -Wyndham- Carseland Provincial Park- Carseland
·
-Natures Hideaway - De Winton
·
-Strathmore Recreation Campground - Strathmore
·
-Eagle Lake - Strathmore
·
-Calgary West Campground- West Calgary
·
-George Lane Memorial Park and Campground- High
River
DID YOU KNOW?
By Selby Jessiman - March 1, 2018



Did you know that the F in FCA stands for Fiat? You got it,
all together it means Fiat Chrysler Automotive. Although our dealership doesn't
sell new Fiat vehicles directly because of the small market for them, we can
most definitely help you locate a used one!
As I have mentioned in a previous blog on my recent trip to
Spain I saw a lot of Fiats buzzing around. Europe is a great market for these
vehicles because of the narrow roads, and the smaller the vehicle the better.
Fiats are particularly small vehicles both in width as well as length. Like
Fiats, Jeep vehicles have similar characteristics for instance great fuel
economy especially on the smaller models such as the Renegade, Compass, and Cherokee.
Along with fuel economy, Jeeps turning radius and ability to navigate narrow
roads put it along side a Fiat vehicle. Another similarity between Fiat and
Jeep are the broad and vibrant color options which are fun and
noticeably unique.
Since Fiat acquired Chrysler in 2014, there have been drastic changes made to the interiors of our
vehicles. Fiat has won numerous awards for their interior design and it has
definitely spiced up the look of our Chrysler, Dodge, and Jeep vehicles.
Take a look:

2014 Jeep Compass                        2017 Jeep Compass

I spotted this particular Fiat in Barcelona, Spain:

Selby In Spain -
March 1, 2017 : By Selby Jessiman


I recently had the opportunity to travel to Spain, first I
stopped in Barcelona then moved to Sevilla, and finally stopped in Malaga. During
my trip I was not surprised to find many FIAT and Jeep vehicles roaming around
Spain as they are small and have great turning radius allowing them navigate
around the narrow and windy roads. After many un-successful attempts to try and
photograph the jeep vehicles I saw, I finally got one! Two hours on a crowded
bus and not to mention a pack of Gravol later we arrived at the white washed
city of Filligniana located just outside of Malaga, where I saw the coolest
thing. A bright yellow Jeep Renegade in a completely white washed city.
The Jeep brand has 4 core values and 3 types of core
customers. The 4 core values they hold are: Freedom, Adventure, Authenticity,
and Passion. The 3 types of core customers that resonate with the Jeep brand
are the: Adventurer, Doer, and Dreamer. In Jeep terms, a dreamer is defined as
someone who wants authentic gear with the hope that one day they'll be able to
do more and dream less. When I saw this bright yellow Jeep Renegade I knew
immediately what type of customer this jeep belonged to… a dreamer. As you can
imagine, in a white washed city a bright yellow vehicle would stand out and I
believe that is exactly what this jeep owner wanted to do. Additionally, this
Jeep owner would hold the value of authenticity highly; owning this vehicle in
a white wash city is about as authentic as it comes. It was neat to see these
jeep values and customs come to life, and especially neat to see it in a
foreign country.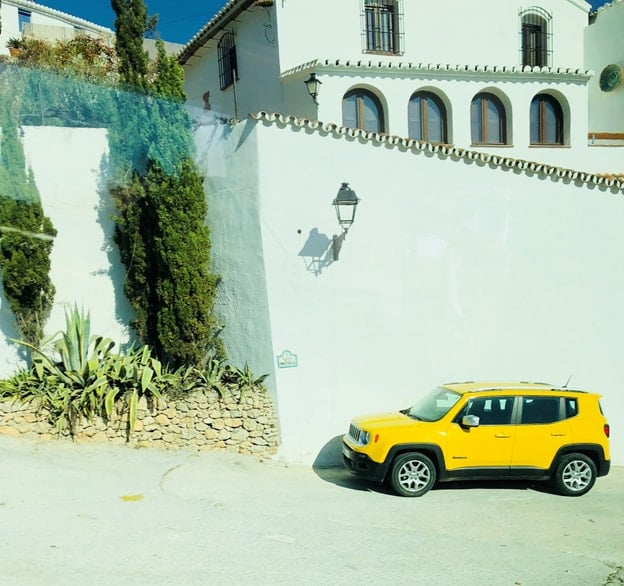 Photo captured by Selby in Spain
Say Goodbye to the Slimy Used Car Sales Guy"
January 26, 2018, Selby Jessiman
Car sales is
probably one of the most fun and up beat professions out there. It seems as
though there is always something to do at work, even if you aren't particularly
busy. I find it exciting to assist people with the second biggest purchase in
their life; a vehicle! 
If you have bought a vehicle from a person or dealership
in the past who did not make your experience exciting and make you feel
important throughout the process, then you definitely bought from the wrong
place. There is a major disadvantage in the automotive industry, particularly
the sales side of things. 
This disadvantage is the stigma that is attached to
the industry, you know that assumption of dealing with the "slimy used car
sales guy." The untrustworthy salesman who's suit is two sizes too big and has
a bbq stain on his shirt…the guy you know is going to try and rip you off. 
We
at Murray's want to set the record straight, those days are far gone. We are
fighting the stigma with managers and sales professionals who provide full
disclosure and above the line transparency. The heart of our business is
honesty and integrity which translates to our sales process. We hope that as we
earn your business, we can earn your trust and work together to fight against
the stigma of the car industry!
Preventing Vehicle Theft Starts Here. 
January 15th, 2018, by Ashley Cunningham
If you're on Facebook or Twitter there's no doubt you've
heard about the increase in attempted and successful vehicle thefts in the
Wheatland County area. Car thieves are becoming more and more brazen in when
and where they attempt these thefts, which means we need to become more and
more diligent in doing everything we can to prevent them.
If everyone steps up and makes car theft more difficult, or
near impossible, we will surely see the number of attempts decrease, as the
task of stealing a car becomes harder and harder.
It's obvious that if someone steals or attempts to steal
your car it becomes a major inconvenience to you. Not only is there a great
possibility of your beloved ride having damage done to it, due to reckless
driving, or in attempt to get into it, you could lose your belongings as well.
All it takes is forgetting your wallet inside one night, or leaving your camera
on the backseat. You then have to deal with reporting the theft (or attempted
theft) to the police. These are all very valid reasons to want to prevent
vehicle theft, one other thing, that is actually a good thing, is that a lot of
insurance companies actually offer discounts if you have aftermarket or
installed security features! So call your insurance agency and see how much
money you can save!
Did you know that the most commonly stolen vehicles in
Alberta, in 2016 were all Ford heavy-duty trucks? The years vary between
2002-2007, but the models were all F250 & F350's!
There are a few, easy things you can do to prevent theft,
that may seem like common sense, but often are the reason vehicles get stolen,
or items get stolen from your vehicle!
          

Roll up the windows, lock all doors

          

Never leave your car running unattended

          

Keep your insurance & registration stored
outside of your car. Many incidences of thieves being pulled over and providing
insurance     and registration has allowed them to slip through the cracks. This
one is easy - store the documents in your wallet or     purse. I've started doing
this and it has brought a lot of peace of mind!

          

Park in a well-lit area - would be thieves
thrive on dark areas!

          

Keep your valuables in the trunk, or with the
privacy cover extended. Better yet, take all valuables inside with you!

          

Install an anti-theft system (we can help you
with that - reach out to our parts department for more info!)

          

Have a garage? Use it! Full of stuff? Have a
garage sale, utilize storage shelves and bins, make room for your car! This is almost
the best way to prevent theft!

          

Set your emergency brake! You have to imagine
when stealing a car, the individuals must be experiencing stress -

 

the same     stresses we all have, plus whatever
else has driven them to try to steal your car. In addition to this, they are
currently in the     process of stealing your car. They are anxious and worried
that they won't be able to "finish the job". They're worried about not     being
able to start the car, whether your neighbors will come out, whether you'll see
them, if a police car drives by, if they'll be     caught after stealing the car.
So basically, anxiety and panic is at a high. What if you set your emergency
brake, and that was     enough to put them into a complete panic and bail on the
idea. They might think something is wrong with the car, or wonder why     it's not
performing properly, and ditch yours.

          

Contact our parts department and ask about after
market accessories that can help protect your vehicle from theft.

If we all step forward and be
diligent in doing our part, we can make it as inconvenient as possible for
these criminals. While it's unlikely we'll see this crime disappear in the near
future, we can at least hope the trend will start to swing downwards and these
will become less and less heard of.
What's that Smell? Sound Familiar? 
January 10rd, 2018, by Darin Collins
Imagine this.  You are walking out to your vehicle dreaming about the new truck you plan on buying today when you panic at the realization that your trade-in vehicle is dirty!  Not talking minor vacuum, wipe down, and good to go type of dirty either.  More like nasty, gross, and even a little bit embarrassing kind of filthy.  You don't want to take it to the dealership looking like this!  After all Strathmore is a small town and these things get around!!
You think about how long it will take to clean the van in this condition!  You don't have that kind of time today.  Your mind races wondering if this will affect what it's worth to the dealership.  Either way, you decide to bite the bullet and hop in the van.  When you arrive, you reluctantly hand over your keys and grimace as the salesperson opens the door to inspect your eyesore.  
Sound familiar!?  Most people take pride in what their vehicles look like but don't enjoy the labour involved to maintain the showroom shine.  That used to be me.  With three young kids it takes about a week to get my van dirty.  I was tired of cleaning it, so I had it professionally detailed.  It feels like a brand new car every time I get it done, and I love the job they do at Murray Chrysler in Strathmore!
Whether you are planning to trade in your vehicle for a new ride and want it spiffed up to show the appraiser, or you want your old vehicle to look like new again, our detail department is the place to go!
The Dodge Caravan - it's here for you!
January 8rd, 2018, by Julie Medved
I'm a huge fan of the Dodge Caravan, partly because I grew up in Windsor, Ontario where my Dad worked at the Chrysler minivan plant.
Memories of grease stained floor mats, unpleasant tobacco aroma, old cassette tapes, well, I could go on. My parents usually drove them to the ground. It was a vehicle we used for everyday travels, short and long, as well as hauling wood and whatever else would fit in a 8 by 4 foot space with the seats stowed in the floor.
Today the Dodge Caravan is one of my favourite vehicles to sell. Convenient, practical and affordable are just a few points that come to mind. November 2017 marked its' 33rd anniversary! Competition? Well Ford and Chevrolet discontinued their 'version' of a mini van over a decade ago because they couldn't compete.
The Dodge Caravan is not for everyone, but almost everyone would enjoy it! If you're trading in your old caravan for a new one, don't forget your DVD's but don't worry about garbage, dirty diapers you  may have left behind in the storage floor bins, our detail department will take care of it as part of our reconditioning process.
And it doesn't matter what shape it's in, just say good bye to the old memories and hello to new ones!
Check out our Grand Caravan inventory here. Looking to trade? Find out what your trade is worth here!
2018 Grand Cherokee Trackhawk 
January 3rd, 2018, by Selby Jessiman
Happy 2018! Everyone always says "new year, new me," and
what better way to introduce a new 'you' to your friends and family than pulling
up in the worlds most powerful SUV, the 2018 Jeep Grand Cherokee Trackhawk.
Picture the luxurious Grand Cherokee SRT with even more upgrades and the best
part… a 6.2L Supercharged Hellcat Engine, otherwise found in the Challenger
Hellcat. Only better than the Challenger, the Trackhawk is all-wheel drive and
can tow up to 7,200 lbs!!
There are only 300 of these units being released in Canada,
and you better believe Murray Chrysler in Strathmore is getting not one but TWO!
You definitely won't fly under the radar in my personal favorite, the Diamond
Black Crystal Pearl beauty with Nappa leather Ruby Red seats.
My favorite features are the bright yellow six piston Brembo
brake calipers and the quad exhaust tips, there is no other vehicle on the road
like it. 707 horsepower and 945 lb-ft of max torque this cat goes from 0-60mph
(97km/h) in 3.5 seconds, you might think you're in a Ferrari only it seats 5!
To make the driving experience that much more exhilarating, our Trackhawk has a
High-Performance Audio package as well as a dual pane panoramic sunroof… the
only thing the Trackhawk doesn't have is wings! If you haven't made your new
years resolution yet, you should make it to come check this beast out!
Follow us on Facebook or Insta and watch for updates on the Trackhawks arrival!
Contact Us
November's Basket of Delicious!
November 16th, 2017, By Ashley Cunningham
If you haven't seen this baby already, I highly suggest you visit our
Facebook Page
to see a picture! Once again we found local businesses and local products to put in our basket (which is worth over $170!)
This months basket includes products from local places including:
Applewood Smoked Cheddar Cheese
NHL Holiday Advent Calendar
Assorted Licorice Candy (900 grams of it!)
The crate is once again from Home Hardware in Strathmore - they have the most beautiful crates!
To enter to win, visit our Facebook page and follow the instructions!
Selby gets Up Close & Personal with the 2018 Jeep Grand Cherokee!
Selby's Vlog
November 16 2017 , By Selby Jessiman
If I had a family or a few more friends it might make sense for me to invest in a Grand Cherokee. But for now, I'm going to admire them from my desk in the dealership. If your looking for something of movie star status, yet practical you will want to check out our selection of Grand Cherokees.
Once you see a Grand Cherokee you will understand why they were voted "best buy" by Consumers Digest for 7 consecutive years. Fully loaded this whip comes with all the bells and whistles and then some!
If you opt for the 19 speaker Harman Kardon audio system you'll also want to purchase your favorite artists new album, so you can blast it while you cruise.
Friend of the environment? Check out the 3.0L EcoDiesel V6 Engine which has fuel efficiency as efficient as 8.4L/100km on the highway. My idea of parallel parking meant looking for somewhere else to park. If you are at all like me you don't have to worry anymore. Grand Cherokees have an available feature that can actually parallel and perpendicular park for you!
Come take the Grand Cherokee SRT for a test drive it has 475 horsepower!! I think I could make it from Cochrane to Strathmore in about 25 minutes, if it wasn't for all those red-light cameras oh and I guess the police.
I think the coolest thing about the Grand Cherokees is the Quadra-lift Air Suspension system. You can literally change your ride height with the push of a button. And the best part, it automatically lowers when driving on the highway which reduces drag and gives you better fuel economy. The extra money you save on fuel you can spend on doughnuts at Tims!
Meet Selby & The 2017 Jeep Compass!
Selby's Vlog

October 25, 2017 , By Selby Jessiman
Hi everyone! My name is Selby and I am the new Sales Assistant here at Murray Chrysler Strathmore.
Welcome to my Vlog (vehicle blog), where I will review fun features and facts about our vehicles and what makes them special. Count on me to help you out with tips to get familiar with vehicle technology.
To start I picked my all time favorite vehicle that will be mine in a matter of time thanks to new 0% financing incentives on 2018 models!! If you haven't heard of the Compass that's probably because they are brand new to 2017.
The first thing you will notice about the compass is its sleek and sporty design. You might even mistake the Jeep Compass for a Range Rover because of its sleek luxurious style, thankfully it's a quarter of the price! The Compass offers all the qualities of an SUV but is more compact and fun to drive.
Did I mention I am from Cochrane? It only makes sense that my next vehicle is extremely fuel efficient. That's where the Compass' fuel efficiency comes in handy. It is as efficient as 10.4L/100km for city driving and 7.3L/100km on the highway. Needless to say, it's the perfect fit.
The best part about the Compass is that it has something for everyone! Do you like to go off-roading? The Compass Trailhawk has unreal off-road capability, there's no wonder it's Trail Rated. Maybe you're looking for something a little more outside the box? Perfect! The Compass comes in unique colors such as Spitfire Orange, Laser Blue Pearl, and Olive Green Pearl. Do you like to geek out on your car data? Unleash your inner nerd while scrolling through the driver information display. Do you have kids? Have a scavenger hunt to find the Jeep 'Easter eggs' embroidered in different parts of the Compass. Can they spot the lizard, LochNess Monster, Jeep grille & headlights, and the Willies Wheeler?
"How's the drive from Cochrane everyday?" - the common question I receive from people when they ask about my commute. Ask me in a month and my response will be: "I love it!". Why you might ask? Because I'll be driving a Compass!!
Time to ditch your all-season tires for the winter...

...Your families safety could depend on it!

September 25, 2017 , by Ashley Cunningham
Despite the mild weather and pumpkin spice lattes, winter is not far away! Before it hits, most people switch to winter tires, and some already have. We hope to show the "year-round summer tire drivers" how important winter tires are.
Winter tires don't have to be a huge investment. Call our parts department - they have packages with or without rims designed fit your budget! If you are purchasing a new vehicle, talk to our finance team about including winter tires in your vehicle payments!
It can take up to 40% longer to stop with all-season tires, compared to winter tires. In a 100-meter scenario, this could be up to 40 meters longer to stop if you are without winter tires! The force of a crash increases based on speed at the time of impact.
The most important part of a winter tire is the rubber compound, which helps keep occupants safe. The compound stays soft in freezing conditions (under 7oC) which allow the tire to grip surfaces, even an ice-covered road. Summer tires harden as temperatures drop, and don't grip the road. All-season tires could be driven year-round, but can't compete with winter tires in the winter.
In addition to providing better grip on ice and snow by having a softer compound, winter tires move water away from the tire. When the tire puts pressure on icy surfaces, the top layer melts, creating a layer of water. If the water doesn't move, the vehicle hydroplanes. The grooves and sipes (tiny channels) on winter tires move water, and allow the tire to stay in contact with the road surface.
Winter tires used to have deeper treads, to get through deep snow. The compromise was less stability and control when accelerating, braking or turning, along with a noisy ride. Technology today focuses on shallower treads, with grooves closely spaced, so water moves away from the tire. New rubber compounds create softer rubber, without losing other critical properties.
Studded tires don't work as well as non-studded ones on a cold, bare pavement. Be aware of this, as most of winter driving will probably be with those conditions.
Good winter tires can stick to glare black ice providing they are within their traction limits. If you hit ice, look where you want to go, and keep a light grip on the steering wheel. This should help you regain control.
You might want to consider reducing the pressure in winter tires in an emergency situation where you have to drive through snow or ice that the tires couldn't normally pass through. This increases the tires contact with the surface. Keep in mind this will lessen control of your vehicle, because the tires will be less stable. It's always best to use the pressure recommended by the manufacturer. If you do lower the pressure, drive slowly, and add the proper amount of air as soon as possible.
Having 4x4 or all-wheel drive does not replace having proper winter tires. All-wheel drive helps you accelerate but braking and turning capabilities are hardly different when comparing an AWD with 2WD. When turning or stopping, limits are determined by the traction the tires deliver, not the number of wheels being driven.
When purchasing winter tires, consider tires one or two sizes smaller width-wise than the regular tires. With a smaller width, pressure placed on the surface below increases, helping to get through snow and reduce hydroplaning! Winter tires are not designed the same; winter tires carry the latest technologies in rubber and tread. Traction could be up to 15% better than economy type winter tires.
Reach out to our Parts Department with further questions or concerns about whether your current tires will perform properly in our cold. They are experts in tires, and put safety first, while still considering budget and other concerns!
The mystery note left on a
2017
Ram 2500 Laramie MegaCab
and a message to the person who wrote it.

July 20, 2017, Ashley Cunningham
We found an anonymous note tucked behind the drivers' side windshield wiper of a truck on our lot yesterday. It reads something like this: "Please don't sell this truck. I really want it. If you can just give me about 9 years I will have enough to buy it. Okay thank you.". The author is a mystery, but that's not the only mystery about this note.
We're sure you have unanswered questions about this, so do we! Who wrote it? Was it someone who has been in the dealership before? Was it Connie, playing a prank on us? Was it someone who was "window shopping" and stumbled upon their dream truck? Was it a child who figured in 9 years they'll be old enough to work, save money (and maybe drive)? Why 9 years? What kind of mathematical logic went into this number? Were they considering future income, expenses and savings? expected inheritance?
The big question is: which truck motivated someone to take the time to write such a detailed request, asking a dealership to hold the truck for them for nine years while they saved enough money to purchase it, without so much as a name to validate the offer?
That truck would be a 2017 Ram 2500 Laramie 4x4 MegaCab. Nice choice, if we don't say so ourselves!
This beautiful Pearl White beast boasts the 6.7L Cummins I-6 Turbo Diesel engine in 6 speed automatic transmission. This truck has a lot of add-ons, minor details such as bed lighting, cargo view camera, remote start system, 5th wheel towing prep group, auto level rear air suspension, and the sport appearance group (which includes body color door handles, black mirrors, badging, premium tail lamps, body color front/rear bumpers and grill with black insert, as well as on/off road tires and 20-inch black aluminum wheels.).
As you can see, the Ram 2500 Laramie is loaded with standard luxury, going above and beyond the standard equipment included in lower trims. Things like the heated leather-wrapped steering wheel, heated & ventilated leather bucket seats, Park-Sense front & rear park assist system, as well as ParkView rear back-up camera.
Look at that Mega Cab, though! Forget about kids kicking the back of your seat, your passengers in the backseat will be almost as comfortable as you are in the front seat!
So, to our mystery author we'd like to say, we understand completely why this is your dream truck. In fact, it's ours too. I have some great news for you though; you don't have to wait 9 years to make your dreams come true! We have an in-house auto credit department that can set you up with payments that fit into your budget, and if your credit, employment or something else is standing in your way, we have an amazing credit recovery program! We also have a lot of other trucks that might suit your budget right now. If not, I guess we'll expect to see you in 9 years for your 2026 Ram 2500 Laramie Megacab, complete with standard self-driving technology, Whether you want to hover or fly, you'll arrive at your destination at what feels like the speed of light!
**We would also really love to meet the person who wrote this note. There have been many laughs and speculations on who could have possible written it, and we have it posted in the dealership. So please keep sharing it and help us find the writer, who may or may not have given a second thought to how much entertainment this note would provide!**